This is both a question and an answer, as I discovered the answer searching/reading the Victron blog - and I thought others here might find it useful.
Customize the logo on the Boat & Motorhome page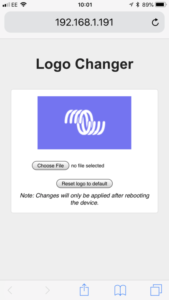 As shown in the image above, you can now upload your own logo onto the Boat & Motorhome page. Great for motorhome builders, boat builders, and other OEMs that want to add their own touch to the system.
How to change the logo
Using this address as a template: http://[ip-here]/logo.php (inserting your device's IP address between the square brackets) type that address into a connected browser – the IP address can be found by going to Settings > Ethernet or Wifi. From there you will see the screen above. Choose an image file from your computer. That's it! ….but don't forget to re-boot the GX device.